POWER BANK
15.00€ 40.00€
Multifunction digital movable charger. Using the efficient boost converter and battery protective IC. it's built-in interligent identification chips are able to identify different kinds of digital products, the voltage and electric current. Reaching Available charge. It has a built-in high-capacity battery,small appearance,wide scope of application, longevity, high cost performance. You can use it to charge your phone, digital camara PDA,PSP,MP3,MP4, IPAD, IPOD, DV and ECT at any time.
Add to CART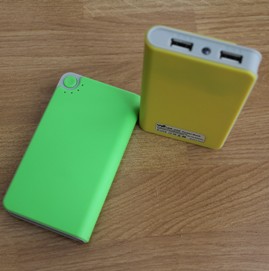 Wide compatible
Double USB output
Powerful with long operative time
Portable and convenient
High efficiency of power conversion
Electricity-saving function
User friendly
Long circle life
Rapid charge
Environmental friendliness and Economic Efficiency.